New Practice Members at Dr. Stacey Smith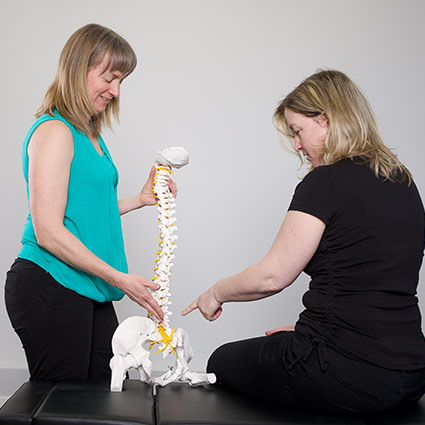 We look forward to welcoming you into our care. When you book an appointment with us, we'll email you our new practice member paperwork. You may complete this in advance and return it to us, or come in a bit early for your appointment to fill in the forms here.
We ask that you dress in loose, comfortable clothing such as jogging pants, shorts, leggings and tank tops. Also, please bring any recent imaging you have had done—along with an open mind and a willingness to learn!
Your First Visit
When you enter our clinic, we'll greet you by name and make you feel right at home. We'll take you into a private exam room, where Dr. Stacey will talk with you in depth about your full health history and current concerns. She'll ask what your goals are and then do a full examination, which will include posture, range of motion, orthopedic and neurological assessments. Along the way, she'll explain what she's doing and answer any of your questions. If necessary, she will refer you out for X-rays.
Your Second & Regular Visits
At your next appointment, Dr. Stacey will go over all of your test and imaging results, explaining what they mean and how they relate to your current symptoms. She'll explain what chiropractic is and outline your custom care plan and what to expect going forward in terms of care and costs. She'll make sure you're comfortable with the type of adjustment she plans to use (if you're not, she will use a different technique) and answer all of your questions.
When you're ready to begin, you'll receive your
first adjustment
. Before you leave, Dr. Stacey will make sure you understand what your at-home care will consist of for this visit. Plan on about 40 minutes for each of these visits.
The length of your regular visits will vary depending on your specific condition and care plan. Dr. Stacey will explain what to expect.
Get Started Today
Contact us today to book your first appointment. We provide a receipt for you to submit to your insurance company.
CONTACT US
---
New Practice Members at Dr. Stacey Smith | (416) 986-8532